If you've landed on this article, it's more than likely because you are having trouble with the refrigerator in your RV. As you probably know by now, replacement "RV" refrigerators are very expensive.
When I was looking for a replacement for my unit, most models I found were in the $1,300 range. That is a lot of money to spend on something that serves an important purpose but doesn't get used that often.
These particular units are pricey due to their utilitarian design. They are capable of running on electric power and on gas power. This makes it easy to load your fridge with food before your trip and keep it cool while you are traveling down the highway.
Unfortunately, this functionality comes at a cost!
When you are looking for a replacement refrigerator for your RV, you do have some options. Consider going to salvage yards or junkyards for direct replacements, or consider using dorm-style mini-fridges or compact residential fridges as alternatives.
So, are there any cheaper options you can take advantage of. Yes, there are. As mentioned above, you can always replace your current fridge with a mini-fridge or small residential refrigerator for a fraction of the cost.
However, as with most things, if it sounds too good to be true then it probably is. But, it that always the case? Well, it depends.
But, before you start thinking about replacing that expensive hunk of plastic and metal, you should do a little troubleshooting first. You may be able to fix your current unit for minimal cost and save all the trouble of replacing it.
How to troubleshoot your RV refrigerator
So, I thought about writing a long drawn out narrative detailing how you should trouble shoot the more common issues with your RV fridge. I may still write it one day, but today is not the day.
Instead, I've found a nice video that does a good job at explaining a lot of the common issues you will run in to. Give it a watch and see if you can fix things on the cheap.
If not, we will help you get started with finding a solid replacement option.
If you have determined you need a replacement, there are a few factors you should consider when figuring out what to buy. Let's take a look.
Replacement Fridge Considerations
So, you're looking for a replacement and have no idea where to start. This is basically a fork in the road and you need to make a decision to go left or right.
Electric vs. Electric/Gas
What I mean by that is on the one hand you can buy a relatively cheap "electric-only" fridge that you can fit into your RV. But, what if you like to boondock and spend days or more away from electric hookups? This can be problematic. You may need to keep things cool in the middle of nowhere.
So, right off the bat, you need to decide if you "need" to have the ability to power your refrigerator off of your gas supply. If the answer to that question is yes, you have pretty much ruled out a residential fridge.
Yes, you can convert a residential refrigerator or buy an all gas fridge, but those are expensive or very involved options. We are keeping things simple and affordable.
Okay, you've decided you need to have the ability to use propane when boondocking. What are your choices?
Electric/Gas Replacement Options
This is where things can get expensive. As mentioned above, a new unit will likely cost you more than $1,000. That is too much for a lot of folks.
Outside of buying a new unit, here are a couple of options to consider.
Junk Yard/Salvage Yard
The first thing you should do is conduct a little research to see if there is an RV junkyard nearby. I've also found a link to a site that lists RV junkyards and salvage yards by state. I'm not sure how complete it is, but it's worth a look.
Once you find one, it's time to see if you can find a suitable replacement for your rig. You may just get lucky.
Buy a Junker
Another option is to buy a junker that someone is trying to get rid of. A lot of times, neglected RV's will go for super cheap prices, if not free. If they have sat for some time and succumbed to major water damage, etc., folks will often dump them just to get rid of them.
This is an opportunity for you. Yes, you will to deal with the camper once you strip out what you need, but it is often way cheaper than buying replacement fridge.
You just need to determine how much your time is worth.
Residential Replacement
When it comes to residential options, you're in luck. Between dorm mini-fridges and compact residential units, you have a lot of options. If you regularly have access to a 120-volt AC hookup, you simply need to find what fits your opening. Check out a couple of options down below.
Downsides of Residential Refrigerators
Like most things when you save money, they do come with some inconveniences. Let's take a look at a few.
Travel latches
One of the first things you will notice is your new fridge won't come with a travel latch. You know, that nifty little thing that keeps your refrigerator door shut while you are zipping down the highway?
What can you do?
One option is to screw in an eyebolt and use a bungee cord to secure it during travel. It may not be the best looking option, but it works.
Another option is to screw on a threaded knob to hold the doors shut during travel. A lot of refrigerators are set up to have reversible doors. To do this, they have "extra" threaded holes on either side of the door.
On a lot of models you can find one of these threaded holes in between the freezer and fridge openings. In other words, if you look along the gap where the two doors meet up opposite of the hinges, you may see a threaded hole. Find a know that fits those threads and screw it in during travel.
Can't run your fridge during travel
This can be a downer. It's really convenient to load your groceries, and let the fridge keep things nice and cool while running on gas. This is a huge perk of the dual fuel units.
Are there any workarounds for this issue. Well, there are a few things you can try.
Pre-chill
If you have an electric hookup, you can always load up and cool everything down prior to your trip. I've found you can keep things pretty cool for up to 24 hours by letting your fridge cool down prior to your trip and leaving the door shut.
Leaving the door shut is the key. Once you crack that thing open, you're releasing precious refrigerated air. Load it up and let things cool for at least 24 hours prior to departure. Resist the urge to open the door during this time.
What if you don't have a way to pre-chill things?
Ice jugs
You can always freeze a couple of milk jugs and use them to help maintain the temperature during travel. Keep in mind, this is not an optimal solution, but it works rather well considering how simple it is. These can work pretty well for up to 10-12 hours.
Replacement Options
This is not an all-inclusive list, and really, it's not a list at all. It's meant to get your mind thinking about some of the options out there.
Whirlpool 3.1 Cu. Ft. Mini Refrigerator – Black WH31BKE
Dimensions
Width: 19.13″
Depth: 21.1″
Height: 32.8″
Haier 9.8-cu ft Top-Freezer Refrigerator (White)
Dimensions
Width: 24″
Depth: 25.25″
Height: 58″
Summit CP972SS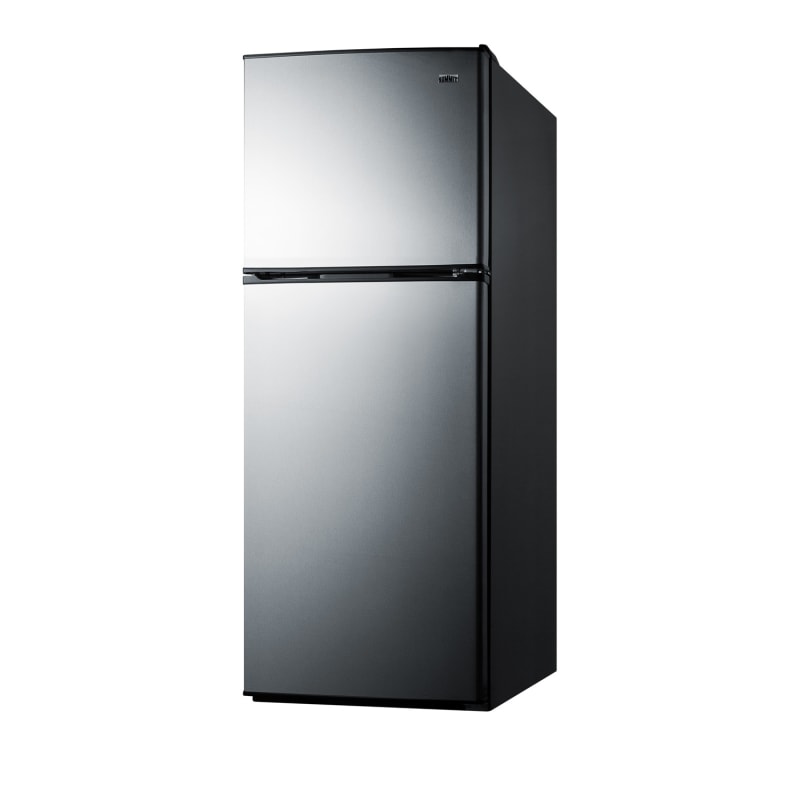 Dimensions
Width: 22″
Depth: 21.75″
Height: 56″
How to Replace an RV Fridge With a Residential Fridge – 7 Easy Steps
Measure all your dimensions carefully. This will be from top to bottom, side to side, and front to back.
Remove your current fridge.
Use a shut-off valve, cap the gas line, or both, to prevent gas leaking.
Find the largest fridge that fits those dimensions.
Install the new fridge and plug it into the outlet where the old unit was plugged in.
Insulate around your new fridge with pipe insulation or pool noodles. Split these in half lengthwise and use them to prevent air coming in.
Trim around any gaps if needed.
Takeaways
Don't worry about the wiring, the replacement fridge will plug in just like a regular one.
Make sure you are absolutely certain there are no gas leaks. This is very important.
Buy the largest fridge that will fit in your RV. Start out by look for fridges with more capacity than you think. If you have a 7 cu.ft., search for a residential unit that is about 11 cu.ft., then adjust appropriately.
Use screws or bolts to secure the fridge through the bottom plate and consider some sort of spacer in the outer gaps to help stabilize it.
Make sure your gaps are as small as possible and seal them off with some sort of gasket or barrier for insulation. Use Gorilla Glue or double-sided tape to hold them in place.
Trim over any gaps around the edges.
Conclusion
Cheap RV refrigerator alternatives are out there, you just have to put in a little work. If you don't have the time or energy, there are plenty of new ones to choose from as well.
The main thing is to choose what works best for you and get on the road.